Zuke's Immune Support Treats
P37XW08GEBD3M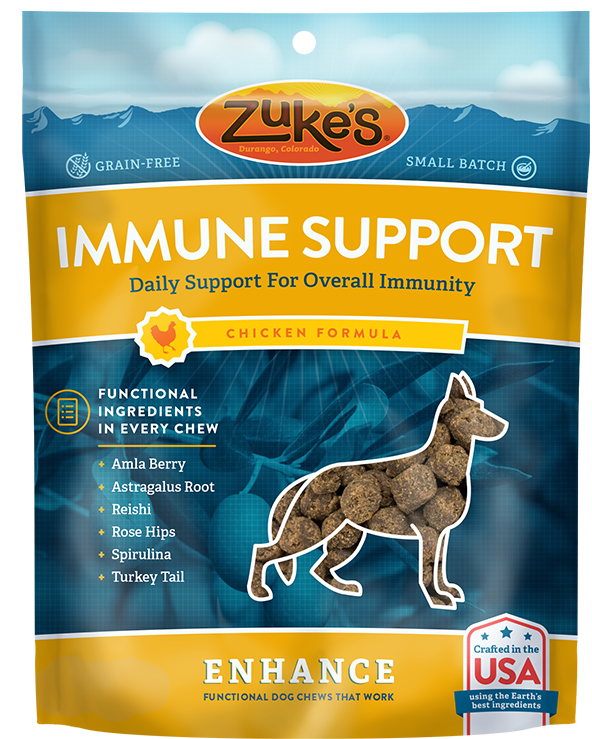 Just like you, your dog enjoys life's adventures more when he's feeling his best. Using the best nature has to offer, we've created Zuke's Enhance Immune Support Chews — natural, daily supplements with botanically based functional ingredients to help support your dog's overall immunity. They're also tasty, grain-free and crafted in small batches in the USA using the Earth's best ingredients. By helping to support your dog's overall immune health, Zuke's Enhance Immune Support Chews help support a lifetime of adventures together. And that's good for both of you.
Functional Ingredients
Amla Berry: The antioxidant-rich berries of the Amla plant (Emblica officinalis) helps promote resistance to pathogens by supporting the proper function of various types of immune cells.
Astragalus Root: Astragalus is a legume and the root has been used for millennia in traditional approaches to health. The root supports the immune response and aids resistance to bacterial and viral pathogens.
Reishi: Reishi (Ganoderma lucidum) is mushroom with a very long history of traditional use. Research has found that it may support healthy immune system function by stimulating production of immune chemicals known as cytokines.
Rose Hips: Rose Hips are the fruit of the Rose plant and are high in vitamin C and other plant acids that may promote balanced immune system function.
Spirulina: Spirulina is a species of cyanobacteria, commonly referred to as "blue-green algae." Spirulina has been found in research studies to provide immune supporting effects via the innate immune response, the first line of defense against pathogens.
Turkey Tail: Turkey Tail (Trametes versicolor) is a type of mushroom commonly found on rotting logs. They promote healthy immune system function.
Available in 5oz pouches.