Manna Pro Mealworm Munchies 30oz
1310275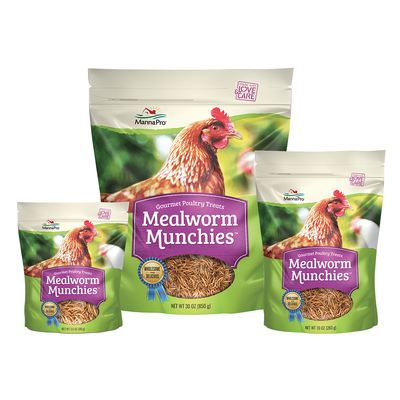 Dehydrated insects for feeding to poultry
* Poultry love to eat bugs – give them the taste they crave!
* Wholesome and delicious!
* Learn more about Manna Pro Poultry Products – watch the videos in 'Other Info' below

All classes of poultry love to eat bugs! Mealworm Munchies give flocks the taste they crave! Perfect for flocks who have limited access to finding their own insect snacks, these dried mealworms are high in nutritious protein and fat. Manna Pro understands that animals are companions as well as providers. So whether it's raising blue-ribbon show birds, or simply to enjoy the eggs and entertainment from a backyard flock, treat feathered friends with wholesome and delicious Mealworm Munchies! 100% dried mealworms provide a nutritional treat or reward for growing and adult poultry and fowl.

Contain min 50% crude protein, min 20% crude fat, max 10% crude fiber and max 12% moisture.

Directions: Feed 1/2-2 tablespoons per bird daily depending on their size. Use with Manna Pro Poultry Grit.

Resealable package.

100% satisfaction guaranteed.