Equilix 125lb Tub garlic
125garlic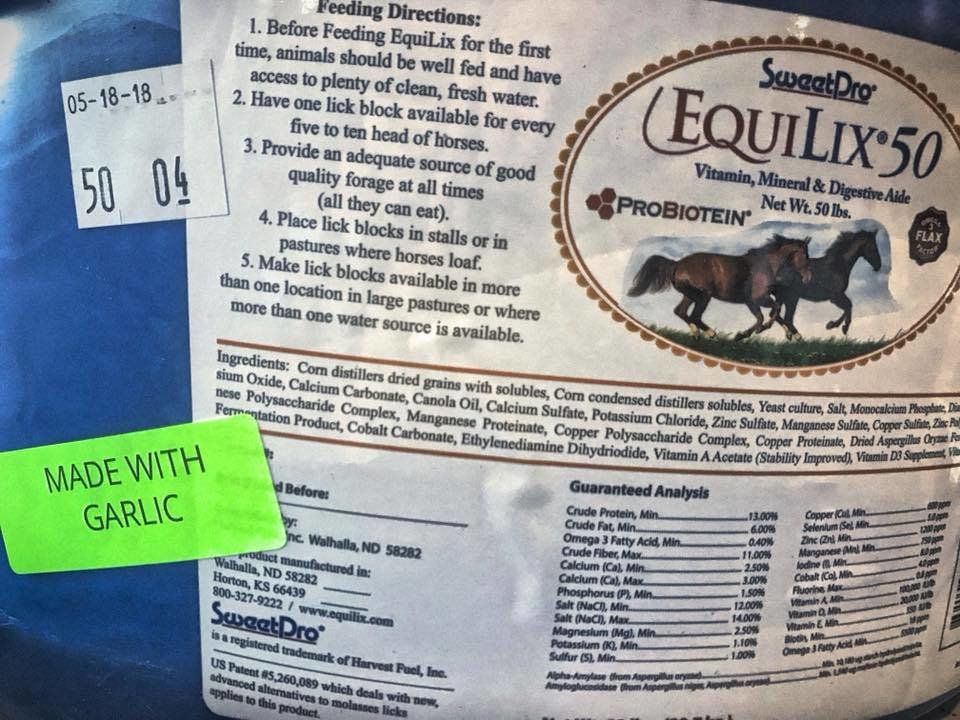 Garlic is a natural insect repellent with some nutritional value to boot.

ProBiotein is a proprietary blend-additive consisting of yeast culture, prebiotic oligosaccharides, enzymes, and protein isolates. The Yeast in ProBiotein, cultured on a media of wheat, oats, barley malt and flax, is rich in biotin and other nutrients to aid digestion. The Oligosaccharides, often called "prebiotics," because they feed the beneficial probiotic bacteria, are a key part of the ProBiotein additive. These prebiotics help maintain good digestive tract health.
---
Enzymes, the catalysts of digestion are included in a fibrinolytic, amylolytic & proteolytic array to assist fiber, protein and mineral utilization.
Flax helps in many ways. The oil is dense energy which is high in Omega 3 fatty acid content. Omega 3 is an essential fatty acid often missing in modern diets. Flax is also among the richest sources of lignans, which help improve immune function. Organic complexed minerals are featured. Zinc, copper and manganese are complexed, or bound to protein instead of other minerals, assuring high bioavailability.

EquiLix offers a two-part nutritional benefit without molasses. A healthy horse looks better and costs less to maintain. Now with EquiLix feed efficiency boosts, the cost of maintaining your horse in top condition can be reduced.
Improves appearance, performance and immune function through better feed digestion.
Meters our buffered benefits to combat gastric distress.
SweetPro pioneered the solidification of fermentation feeds such as distillers grain into solid blocks and now they've developed aown new fermentation process to produce a unique "blend additive" call ProBiotein. Yeast and enzyme levels in ProBiotein greatly enhance the digestion of forages, so horses get more out their hay.
Organic complex trace minerals help improve bioavailability of those important minerals. Plus they're adding the FlaxFactor—stabilized milled flax with its high levels of healthy omega 3 fatty acids.
Complex carbohydrates versus the simple sugars of molasses are nutritionally superior and stay solid in summer heat, eliminating sticky areas that can trap dirt and attract flies.